Customer Tesimonials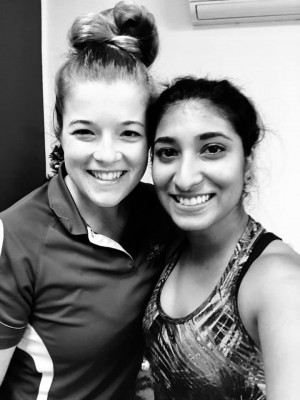 Preethi Pandalaneni
On beautiful Kate's birthday, I would like to share that Kate goes above and beyond in her personal training. Having trained with Kate for over 2 years, she has taught me to engage with my body more effectively, to appreciate the physical AND mental benefits of training as well as learning to make it a lifestyle choice. She created a safe space where I could open up and tailored the training to my busy schedule. Kate lights up every room she is in and grew from a trainer to a dear friend whose motivation, work ethic and empathy are an inspiration, not only in terms of fitness but in life. She is remarkable - her investment and commitment to everyone's journey at Bay Activept speaks volumes about the passion she has for this job and the amazing woman that she is. Nothing but love and admiration for this #girlboss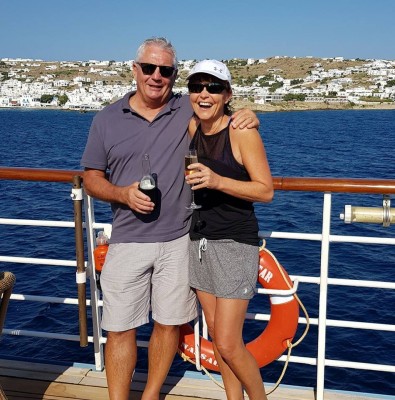 Helen Cameron
Kate has a positive attitude and contagious energy. ! I have done PTs, classes and workshops over the last 2 years. Her depth of knowledge of nutrition, movement and mindset have provided me with the tools to understand and improve my overall wellbeing!.Thank you Kate,you are a breath of fresh air in this industry!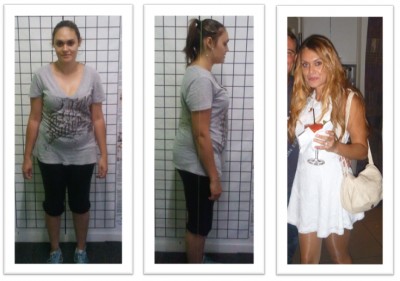 Emma Hudson
I've Been training with Kate for over 4 years and have been so impressed & grateful to have her help me with my rehabilitation and weight loss.
In 2009 I was in a car crash that pretty much "totalled" me, I fractured my right mandible, clavicle, hip, both femurs, knee, foot & toe, Jut to name a few... So from that I was on some heavy painkillers & other medications for quite sometime. I had to learn how to walk again, progressing from wheel chairs to walking frames to crutches and them... I found Kate!
I got assigned with Kate and really didn't have a clue if she was going to be able to help me. I was still on medication and gained a lot of weight and was depressed and had anxiety because of the crash. She set plans in place and helped me get off the medication and seeked other ways to manage pain and my eating, I must say it was very hard to keep on track of what she was asking me to do. Our personal training sessions would be hard but she knew my limits and made sure I was getting somewhere and progressing towards my goal of losing all the weight and being able to mobilize properly and to feel good and have confidence again.
A big thing I can remember her first asking me was "what do you want most out of this?" my answer was "to be able to get in and out of the bath and to sit on the floor and to be able to get back up by myself", it sounds like a weird goal but to have broken 2 legs and hip makes things so difficult and you realise you can't do some things anymore because you are limited because of injuries but i was determined to do these things as soon as possible because they were the hardest at the time. With lots of time, effort, strength and of course Kate's patience with me I was on that floor and getting back up on my own and getting in and out of baths on my own. I knew then that Kate has got my back and can get me where I want to be and she has greatly!
Kate has helped me so much throughout some really hard & painful years of my life and honestly without her helping me get back to the old me as much as possible, I don't know where I'd be. I first weighed in with Kate at 76.2kg, I am now 52kg. Not only is she a bloody awesome personal trainer but I now consider her a great friend.
I feel good, look good and have muscles. Now we have new goals and I don't doubt her for one second. I know that she will get me there!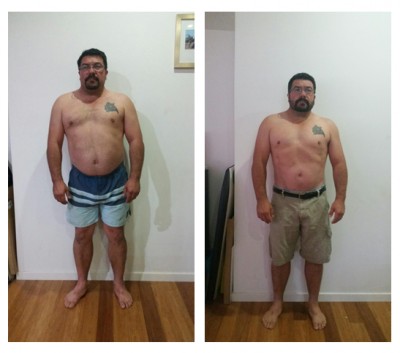 Chris Humphries
I would like to say a really BIG THANK YOU for your help and support over the last 6 weeks.The Metabolic Rewire Program worked really well for me.
I started 6 weeks ago, I weighed in t 97.7kg with 29.9% body fat and No.14 on the visceral fat scale. My blood pressure was about 146.98 on average and my girth measurement was at 113cm. I was also suffering from chronic reflux which was managed through medication 5 times per week.
I am proud to say, I am now 92.5kg, have lost 5.9kg of fat.My body fat percentage is now down to 24.8% and my visceral fat rating has dropped to 11 (in the healthy zone). My blood pressure has dropped to 122/88 and I've only taken my reflux medication 3 times in 6 weeks.
I feel lighter, more energetic and better about myself. Which is encouraging me to do things I never thought I would do again; I went for a jog the other day for the first time in 7yrs, I have even started surfing again which i hadn't done in 20yrs.
My kids and wife all like the healthier me. I exercise and sleep better, no more waking up with bad lower back pain from to much weight around the midsection.
So once again I thank you for your time and support in helping me to achieve my goals. I am now a much happier and healthier father and husband.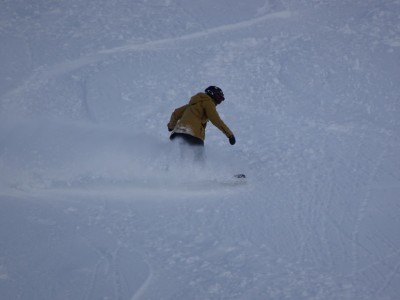 Vicky Chiu
I went to Bay ActivePT to improve my general fitness, muscle strength and body definition.

For the past 12 months training with Kate, not only are my core muscles significantly stronger, which has reduced significant lower back pain due to a old injury, but my whole body is also stronger.

As a seasoned snowboarder, I am also be able to push my snowboarding skills to the next level with Kate's specific training.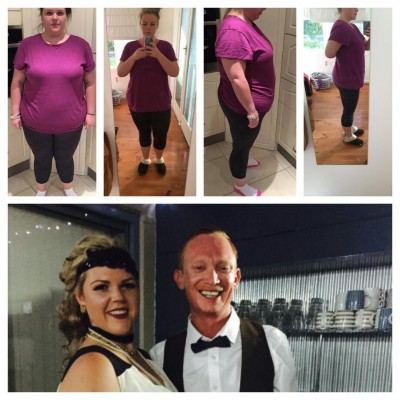 Nadine McClusky
Being through many fad diets and unsuccessful weight loss regimes I decided to sign up with Kate,not only to lose weight but to manage issues surrounding an old injury. Kate knows exactly how to encourage and push me, and entertain me during our sessions. She helped me understand the importance of correct form and facilitated my progression to more developed exercises and overcome my boundaries. She guided my understanding in food and nutrition. Kate is always positive and cheerful, and gave me confidence. Kate's knowledge and support allowed me to see endless results - within the last 18 months I had visibly lost weight, gained definition, was eating more healthily, felt more energetic and maintained a balanced lifestyle. I would recommend her to anyone who looks for long term results and a nurturing environment!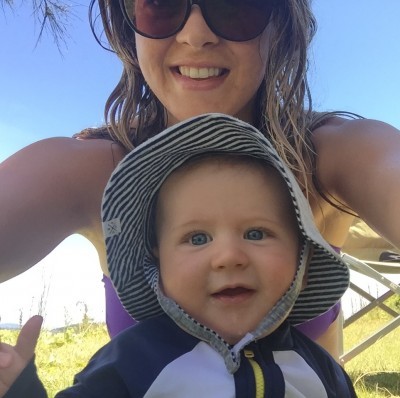 Georgia McKay
Bodhi my 6 month old and I have been training with Kate for a few months now. Kate's tits and tots classes are so much fun for mum and bub. They are just the right amount of tough, while keeping the babies happy. Kate really knows how to accommodate both mum and bub in every class. Her knowledge on the body, especially after pregnancy and child birth is second to none which is very refreshing for new mums. I have trained with lots of different gyms and trainers over the years but none have compared to the expertise and friendliness of Kate! Thank you so much for offering this type of service in the bay, I would recommend the tits and tots classes to every mum.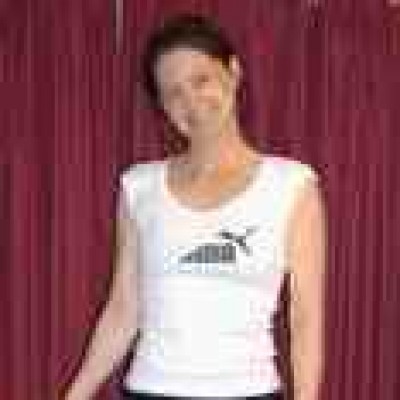 Joycie Neilson
When I first started with Kate I had chronic back pain, I have a bulging disc. She started with very light exercises & in the 20 months I have been going to her I have gone from not being able to touch my knees to touching the floor, I can do much more vigorous exercises now which is a huge achievement for me, she has strengthened my core to the max, like she says I have gone from just functioning to now having a better quality of life. I am able to ski down the slopes without having pain, a sport I love to do. I did Tough Mudder in Sydney this year, something I thought I would NEVER be able to do. I cannot speak highly enough of such a talented young lady, someone who actually cares about my progress & takes me just that little step forward.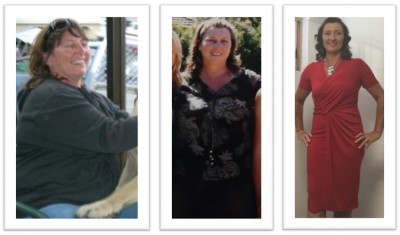 Lyn Strong
I have struggled with my weight since my first child 17 years ago and weighed 115kgs after my second at the age of 40. I did loose 15kgs however never been able to get under 100kgs. From being overweight and being an older mum, I suffered from chronic lower back pain and I felt my weight was affecting not only my work, I was unmotivated to do regular things with my family. I finally made a decision that things needed to change so I joined the gym and that is where I meet Kate through an introductory PT session and I have never looked back.
I have lost 30kgs and never looked better. I was in a size 20-22 and now I'm in a 12-14 and I have kept it off for over 2 years. I feel fantastic! My friends and family comment how great I look. It's like I'm a new person and I love it, especially going shopping for clothes.
My weight loss journey has not been easy, although Kate kept me motivated to reach my goals and pushed me through when I thought it was tough. Her amazing knowledge and understanding of exercise, nutrition and health go beyond not only by her genuine care, support and encouragement, but her commitment to change your whole lifestyle of way of thinking.
Training with Kate is worthwhile because she will help to turn your life around like she has done mine. She will change not only how you look, but how you feel about yourself, and I feel 'FANTASTIC'!!!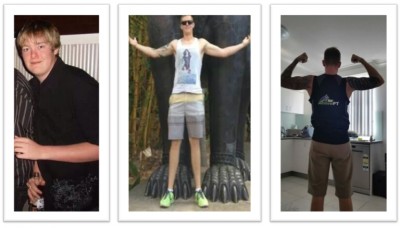 Sam Deadman
I was 95kg's around 22% body fat and had little muscle.
My aspiration at the time was to join the Australian Army, I had no idea to start but Kate was there to give me handy advice and kick my lazy but into shape. With her help I lost 10kg's in 3 months and gave me an above base understanding of the fitness world. When I came out of basic training i was 78kg's and all skin and bone, she helped me via correspondence with motivation and tips and since 13 months ago i have put on 12kg's with a body fat % of 13%. She gave me a strong foundation and i can't thank her enough.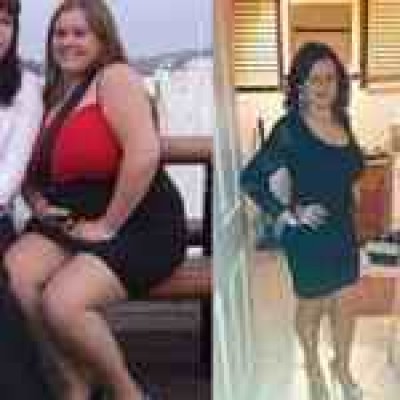 Jaime Turner
I lost 17 kilos whilst training with Kate last year and I have never once regretted signing up to train with her. She was always supportive and positive when I was having a bad day and always ready to kick my butt when I was having a lazy day. It was exactly what I needed to get fit and healthy and motivated to keep going even once I had reached my goal. I learnt so much whilst training with Kate, about nutrition and exercise and I have kept using that knowledge to help others I know and I always, always recommend that people talk to and train with Kate themselves when they really are ready to make that change. I thank my lucky stars every day that I met this excellent trainer and wonderful woman!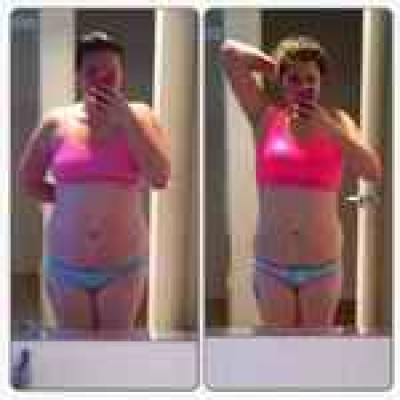 Louise Ogilvie
There are two moments in my life which has helped shape who I am today.
This first being the day I gave birth to my daughter, and the second; the day I met Kate. During my pregnancy I gained a whopping 30kg taking me into triple digits, I was keen to shred it all and gain back some confidence. I started going on a meal replacement diet and working out at the gym doing hardly anything. Not surprisingly, I wasn't getting anywhere and I was feeling sluggish and bad about myself. Enter Kate; she completely transformed my body, self esteem and eating habits! I now have strength, an improved posture, a love of weights and squats and a variety of food to enjoy. She has helped me get back to my pre-pregnancy weight, but the beauty is that my body is in better shape than it was before I fell pregnant! Kate has been there with me from day one; she understands me and my goals, she has supported me through some emotional times and helped me get back on track. The most important thing she has taught me is to believe in myself and to change my lifestyle for my daughter and myself, no one else!!!!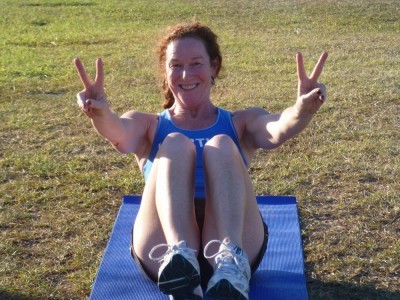 Kerryl Davie
I've been training with Kate for over 2 years and have been so impressed with my progress and overall well being. I'm in my 50's and am in the best shape of my life! Initially I wanted to improve my overall fitness and strength and, as I have issues with both knees, I needed someone who would tailor my training as well as find the balance between challenge and building strength. Kate has done this and more.
I decided to compete in the George Bass Surfboat Marathon at the end of 2014 and I needed sport specific training and nutrition advice. Kate's knowledge of human anatomy and physiology ensured that I was ready physically and mentally for this gruelling race. What impressed me was Kate's ability to read my energy levels, as I was also doing boat and team training, and sometimes she would change on the spot my sessions so that I was able to get the most out of the training, as well as be ready for upcoming training sessions. At the completion of the marathon (7 days), the truth was in my recovery, which took no time at all. I felt really great. I absolutely accredit this to Kate's expertise in personal training, knowing me and my needs.
With this extremely positive experience, I'll be competing in the next George Bass Marathon in January 2016, knowing I'll be in the very competent and capable hands of Kate Turtiainen.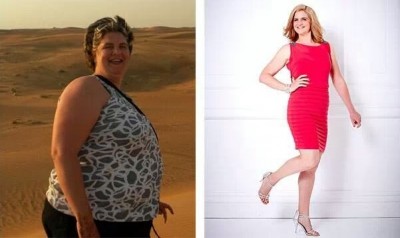 Renee Wolfe
My name is Renee and Kate has been my personal trainer since 2011.
I began my weight loss journey with Kate in 2011. I was assigned to Kate's group which I was very happy about as I had heard very good things about her. Through the Biggest Loser program I got to know Kate very well. What impressed me about Kate is that she takes her work personally. Kate goes above and beyond for her clients and nothing is a hassle or too hard for her. Through our journey together Kate has provided emotional support to me through the tough times and she has also kept me motivated. Kate keeps in regular contact via phone and text making the difficult journey of weight loss just that bit easier. Kate is a sweet kind hearted girl, but don't let that fool you, she works hard to get you results and she was absolutely born to be a Personal Trainer. Together with Kate I have lost 55ks and feel better than ever! I could not have done it without her!